Aqua Training | Low-Impact, Balanced Training for Everyone
Body Master is Houston's Only Private Fitness Studio with a Salt Water Pool!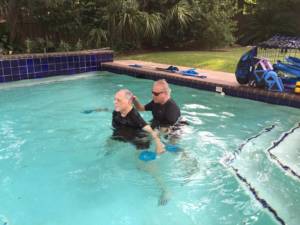 Our exclusive salt water pool could be your fitness oasis in Houston. Whether you are aiming to burn fat, tone muscle or rehabilitate from an injury or surgery, I can customize an aqua training program specifically for you. And, you don't even have to know how to swim!
Along with the numerous benefits aqua training offers, you will receive caring, personalized training and the attention you deserve. Plus, I will tailor the intensity of your training program to match your fitness goals and provide you with a tranquil, supportive environment to fulfill them.
If you are ready to dive deeper into improving your health and fitness, call me at (713) 773-0077 or explore more about how my aqua training program can benefit you.
Options
Private sessions or Group Sessions (great for family and friends). Call 713-773-0077 to schedule your session.
Our pool is salt water, which means that there's no caustic chlorine effects from being in it – it can even help rejuvenate you hair and skin!
Goals of Aqua Training
Burn Fat
Strengthen Muscle
Rehabilitate from an injury or surgery
Key Benefits of Aqua Training
Low-impact: water resistance helps strengthen muscles and reduces pressure on your joints, ligaments, and tendons
Effective: research shows that the combination of indoor and outdoor trianing provides you with the ideal balanced and varied training you need to meet and exceed your fitness goals faster
Aqua training is especially effective in increasing core strength and balance!
Facilities
Custom-designed
Professionally maintained
Set at an optimal training temperature
located in a beautiful, serene environment with natural sunlight and partial shading from a magnificent oak tree
FREE Body


Transformation Analysis

The Body Master's exercise programs are designed to boost your metabolism, help you burn maximum fat calories, and get you in great shape in record time! You see, there is a difference between training to burn overall calories and burning FAT CALORIES, I will teach you about this when you come in for your free analysis.
Instantly Reserve A Free Analysis
Come in and discuss your goals today!
Free Fat Loss Nutritional Meal Plan
Free Abs Secret Report
Unlimited Motivation & Support
Small Group Training
You and 3 of your friends or family can come in to: strengthen muscle and become more fit, lose fat, become more flexible, have higher endurance, have done-for-you meal plans and grocery list, and learn lifestyle changes for a healthier life.
Reserve A Complimentary Session
Join an already scheduled group for a FREE WORKOUT