If you dread going to the gym because it's the same old thing, consider using a personal trainer in Houston to help put pep in your step and create a workout for you that's a lot more fun and interesting. Most personal trainers use a wide variety of different types of exercises that vary from calisthenics and weights, which you might expect, to stress boxing and aquatic workouts, which you probably don't expect. You'll never get bored working with a personal trainer because you'll always be learning something new.
You're never to old to get fitter.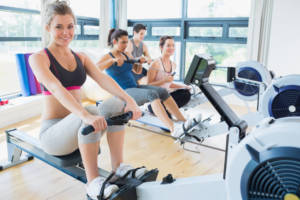 No matter what your age, you'll have fun exercising. Even seniors can find a personal trainer that understands the problems they face and accommodates them with exercises that won't hurt joints or over tax them. Some trainers find working out in a pool a great exercise for seniors with problem joints and even add weight lifting that can help prevent or improve those with osteoporosis. You'll be amazed at how much younger you'll feel when you start a workout program and stick with it.
Punch your way to stress relief.
Sure you might want to punch the boss or an irate client, but that simply isn't beneficial to anyone's career. Instead, you can find a trainer that helps you learn how to burn off those negative effects of stress and while you're doing it, stimulate the brain to create hormones that make you feel good and lift your spirits. You might even try some boxing moves by punching a bag with all you've got. Just pretend it's the face of those who irritate you and you'll be feeling better in no time with your career in tact.
You'll get more benefit from working with a personal trainer.
Everyone who works out wants to see and feel results. When you work with a Houston personal trainer seeing results quicker is one of the huge benefits. That's because the trainer designs the program specifically for your needs, so you'll be working as hard as you can without overdoing it. Seeing results makes the workout twice as much fun because you look forward to the next level of fitness.
Find a personal trainer that can help you eat healthier. Some trainers offer nutritional advice that can not only help you lose weight, but also help improve your health. It's not a diet but help in making wiser food choices.
You'll sleep better at night when you workout to capacity and a personal trainer can help you do that. Life is better after a good night's sleep.
Some trainers offer group sessions that you can take with friends or make friends taking the course. Working out with a group can be a fun change to your exercise routine to make it more enjoyable.
When you workout with a personal trainer you'll have another person rooting for your success. Personal trainers provide motivation by holding you accountable, but they also provide a great deal of support. It's nice to get an "atta' boy" occasionally.
Personal Trainer Houston, TX
Contact us now and get ready for the change you've always in your life. Call us at (713) 773-0077.
Or visit this link:
Personal Trainer Houston
FREE Body


Transformation Analysis

The Body Master's exercise programs are designed to boost your metabolism, help you burn maximum fat calories, and get you in great shape in record time! You see, there is a difference between training to burn overall calories and burning FAT CALORIES, I will teach you about this when you come in for your free analysis.
Instantly Reserve A Free Analysis
Come in and discuss your goals today!
Free Fat Loss Nutritional Meal Plan
Free Abs Secret Report
Unlimited Motivation & Support
Small Group Training
You and 3 of your friends or family can come in to: strengthen muscle and become more fit, lose fat, become more flexible, have higher endurance, have done-for-you meal plans and grocery list, and learn lifestyle changes for a healthier life.
Reserve A Complimentary Session
Join an already scheduled group for a FREE WORKOUT