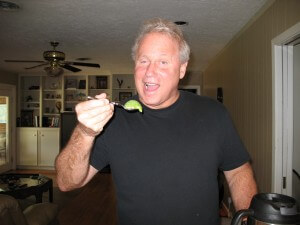 Man, do I ever love avocados!! Besides their great flavor, here are some good reasons you should love them too!
This fruit, yes I did say fruit, does contain a good amount of fat. However do not let that dissuade you from understanding it's amazing amount of nutrients. To begin with, the fats contained in an avocado are what are called healthy fats. Healthy fats decrease the level of bad cholesterol in your blood. Invariably, this lowers the amount of stroke and heart disease just by eating them.
But more importantly, it contains a decent amount of protein compared to other fruits. It's low in sugar, is a great source of potassium, vitamin K, B5,B6,B9 and E. Not to mention almost half of the daily recommended amount of dietary fiber. All in one average sized avocado! Amazing right??
But the benefits don't just stop at the amount of vitamins the Avocado has. I mentioned earlier about the way they can lower the risk of heart disease but I didn't mention that they can lower the risk of diabetes. They have been proven to improve overall diet quality, nutrition intake and reduce risk of metabolic syndrome. All of which can lead to a lower chance of diabetes.
In addition, there is no cure for cancer as of yet but Avocados are rich in phytochemicals which are primarily used to prevent the onset of cancer. The Avocado has been analyzed and has been found to have a combination of many different members of the phytochemical family and can be used in being a strong diet prevention method.
Lower cholesterol, diet stability, lesser threat of diabetes and chock full of vitamins; the avocado is truly a powerhouse when it comes to a smart diet or for general well being. Hopefully you can start loving them as much as I do! I usually have either one half of a large or one whole Avacado for breakfast, yum, what a way to start the morning!
If you live or work in SW Houston then give me a call and I'll hook you up with 4 free sessions to get you started on the path to a longer healthier life: 832.500.5459