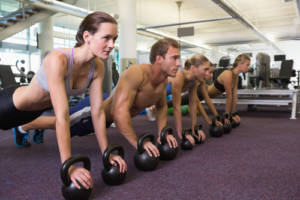 A dose of motivation will change your life almost overnight.
The best part of my job is seeing clients achieve amazing results. Whether they drop a few sizes, lose the baby weight, get off their blood pressure meds, or shrink their waist, the excitement is always contagious.
There really isn't a clear way to describe the euphoria that settles in once you've realized your fitness goal. Thus, you have to experience it.
Though each successful client is unique with different goals, one element unites them.
They are all highly motivated.
You see, I am in a unique position. So I know how to get you (or anyone else who walks through my door) into great shape and coach you through a 50-pound weight loss. I can guide you to a healthier body and can even train you into a toned athlete.
But there is one catch.
You'll need to be motivated.
See, saying that you want to get into great shape isn't enough. You need motivation—and that's just half of the equation. The other part (and the most important) is ACTION.
Nothing happens until you take action.
So you can want it, think about it, mull it over, ponder it, plan it, and then re-plan it. But nothing happens until you take action.
While I may not know your story—it's probably safe to assume that you are dissatisfied with your body and know that you can improve your fitness level. You want to look better, to have more energy, to experience fewer aches and pains, and to enjoy sweet satisfaction as you achieve your goals once and for all.
I know that all of my successful clients were once in your shoes. They wanted to change their bodies. They felt urgency. And then they did what most fail to do. They took action and contacted me.
But there is more to it than that. They then committed to a program, put in the exercise, stuck to their diet and met their goals. There's nothing more gratifying than getting back into those jeans that now sit in the back of your closet.
People who take massive action get massive rewards. And so those that simply talk about losing weight will continue to put weight on, pound after pound. I hate to put it that way, but it's the truth.
So what do you want?
To drop 20 pounds
Feel younger
Look better in your birthday suit
Become healthier
How bad do you want it? How much motivation do you have? Enough to take MASSIVE ACTION?
The rewards are great IF you do.
(Your first step is to call or email me now to get started.)
Stressed Out?
Regular exercise is a simple solution to get you feeling good fast.
This is because every time you exercise your body increases its production of endorphins, which are responsible for that feel-good euphoria you get after a great workout or while chomping down on a piece of chocolate.
However, before you turn to chocolate and skip the gym, remember the end result of each and choose which one will help you reduce stress in the long run. (Hint: It's not the chocolate!)
Sausage and Cabbage Comfort Soup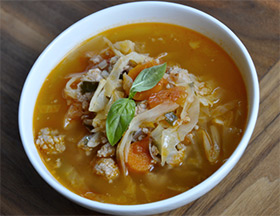 Homemade soup is a wonderful way to enjoy healthy, quick meals at home. This recipe for Sausage and Cabbage Comfort Soup is packed with wholesome fiber from fresh vegetables and protein from sausage. Make a big pot on the weekend and then reheat bowls throughout the week for fast, nutritious meals that will keep you on track with your fitness goals.
Servings: 20
Here's what you need…
1 ½ pounds mild Italian sausage, loose
1 large yellow onion, halved and thinly sliced
2 teaspoons garlic, chopped
4 medium carrots, peeled and sliced into ¼" rounds
1 head green cabbage, core removed and shredded
3 large tomatoes, diced
2 teaspoons sea salt (plus more as needed)
fresh ground black pepper (about 5 cracks)
1 teaspoon ground sweet paprika
8 cups chicken broth
Basil leaf to garnish *optional
1. Brown the sausage at the bottom of a large soup pot over medium high heat, breaking it into small pieces as it browns. Remove the cooked sausage from the pot and set aside in a bowl, leaving the oil from the sausage in the pot.
2. Add the onions, garlic and carrots to the pot with the hot oil. Continue to cook over medium high heat, stirring often as the veggies become tender, about 5 minutes. Add the cabbage and tomatoes, and continue to cook, stirring often, for 5 minutes. Mix in the remaining ingredients and bring the soup to a low simmer for 20 minutes.
3. Add more salt and pepper to taste and serve hot. Enjoy!