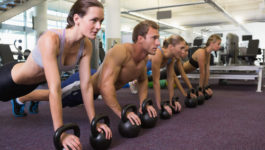 Are you working towards a specific number on the scale? Or are you hoping to fit into a certain size dress or jeans? While having this goal is great, it will NOT ensure your success.
Think about how many people you know who have had a specific number that they wanted to reach. You are probably one of them. This number might have been posted up on a sticky note on the fridge, reminding you to watch what you eat and consistently make it to the gym. Maybe this number was updated and recorded everyday, to enforce accountability.
How long did that last? A week? Two weeks? Statistics dictate that it likely didn't last longer than a few weeks until that "goal number" began to fade from your life. Then you took it down off the fridge, or you stared at it defiantly as you reached for the off-limits food. You began to look at your goal number as an adversary rather than something good.
I'm going to clue you in to the ONE AND ONLY lesson that you need to know when it comes to fitness, fat loss, and achieving any goal. Listen up; this one is worthwhile.
IT'S NOT ABOUT REACHING A NUMBER.
This may go against everything you've come to believe about achieving a goal, but then, your techniques haven't exactly been working. The number that you're hoping to magically be one day doesn't matter one bit, and here's why…
IT'S ABOUT LIVING IN THE MOMENTUM.
Can you remember how it felt the last time that you ate clean, exercised hard and got adequate sleep for a few consecutive days? A feeling of momentum came over you, didn't it? There was a buzzing in your cells and a rhythm in your pace. You felt alive, you felt sexy, and you felt empowered. Never mind that you weren't yet at your goal number, you were headed there!
Getting down to your goal weight, and fitting into your goal size, is the direct result of living in that state of momentum for an extended period of time. You see, the momentum can be felt immediately, once you start eating clean, exercising hard and taking care of your health, whereas that "goal number" simply can't be felt until it is achieved, and so it's not as powerful a motivator.
My challenge and advice to you is to find the joy of living in the momentum, and keep that momentum going until your goal number is achieved. Focus only on the momentum, not on the number.
Fitness is a way of life. Being lean is a lifestyle. Neither of which can be had by going about it halfheartedly.
You have to become the momentum.
Call or email me today and we will get your momentum started on the exercise program that will reshape your body once and for all!
Reasons Why Sugar Ruins Your Health
Have you forgotten how terrible refined sugar is for your body? Despite being well-known as the most fattening ingredient, most of us still eat it everyday! Here's reminder of why sugar ruins your health:
Sugar contributes to obesity
Sugar suppresses the immune system
It causes hyperactivity and anxiety
Sugar consumption contributes to disease
Sugar interferes with absorption of minerals
Easy Green Bean, Egg and Quinoa Salad
Here's a tasty way to eat your green beans – tossed with quinoa, sliced plum and topped with hard boiled egg. This type of salad, where the base is a steamed vegetable and protein is added on top, makes a phenomenally fit meal that will help get you to your fitness goals faster than ever. Enjoy!
Servings: 4
Here's what you need…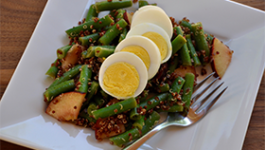 1 cup cooked red quinoa
2 cups green beans, steamed and cut into 1 inch pieces
2 hard-boiled eggs, sliced
1 ripe plum, thinly sliced
2 teaspoons sesame oil
2 Tablespoons fresh lime juice
½ teaspoon sea salt
ground black pepper
Instructions:
Combine the quinoa, beans, plum and egg in a large bowl.
Drizzle with the sesame oil, lime juice, salt and pepper. Mix well and enjoy!
Nutritional Analysis:
One serving equals: 225 calories, 7g fat, 270mg sodium, 31g carbohydrate, 5g fiber, and 10g protein