Today I'm going to let you in on a little secret…it's not hard to get and stay fit. And no, it's not about hard work and deprivation.
It's all about boundaries. Let me explain…
When you were a child your parents set boundaries around you. They were the authority on what was or wasn't acceptable behavior. You had to complete your chores before dinner. Then you had to eat all your vegetables before dessert. You had to finish your homework before going out to play.
If you failed to comply with these boundaries then you knew that there would be consequences.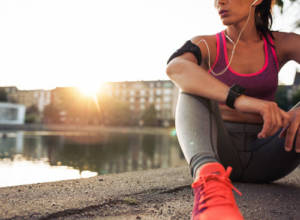 As an adult you, and only you, are the authority on what is or isn't acceptable behavior. You are in the position to set boundaries around yourself. These boundaries serve as a framework of order around you – a rock of support in an otherwise chaotic world.
With self-imposed boundaries you can assure your success in anything…specifically with weight loss.
Your fitness boundaries have to be self-imposed—no one is going to do it for you. Don't look at this as a bad thing! Self-imposed boundaries are self-empowering. Let's face it, you've been living life without fitness boundaries.
You eat whatever you want, whenever you want it.
And you use any excuse to avoid exercise.
You indulge whenever it feels good.
Your Fitness Boundaries
It's time to introduce boundaries back into your life. These boundaries are the key to unleashing your ideal fit and healthy body.
Fitness Boundary #1: What you eat
If you were to be perfectly honest with me, you could list off the foods that are unhealthy and fattening. So why are you still eating them? You know that refined, fried, processed and sugary foods are not good for you.
Place boundaries around what you will allow yourself to eat. Acceptable food items include whole foods, vegetables, fruits, whole grains, and lean meats.
Fitness Boundary #2: How you exercise
I know that you're not an Olympic athlete, but that doesn't mean that you can simply pass on exercise. By now you are well aware of the host of benefits that exercise provides. With regular exercise you'll look great, feel amazing and have more energy than ever.
Place boundaries around how often you must exercise. Choose exercise that is challenging and fun – don't be afraid to try new activities that improve your strength and endurance.
Fitness Boundary #3: When you indulge
Let's face it, we live in a world where indulging has become the norm, rather than the exception. When you live life without fitness boundaries, everyday is an opportunity to indulge. These indulgences all add up quickly, causing your clothes to become tight and your energy levels to drop.
Place boundaries around when you can indulge. You'll find that by limiting your indulgences you'll end up enjoying them even more.
Putting It In Action
Sit down and take a long, hard look at your lifestyle. Are you eating as healthy as you could be? Do you exercise 3-5 times each week? Are you indulging too often?
Answer the following questions:
What 3 food items can I eliminate from my daily diet? (These should be nutritionally void items like high-calories beverages, fast food, packaged snacks, high-fat food, candy or desserts.)
When can I schedule exercise into my week? (Pick 3-5 days, and select a specific timeframe. Example: I'm going to exercise on Monday, Wednesday and Fridays from 5am-6am.)
When will I allow myself to indulge? (Don't go overboard here, especially if you need to lose weight. Enjoy a treat a couple times each month, and do so guilt-free knowing that you've maintained healthy food boundaries the rest of the time.
Remember that self-imposed boundaries are self-empowering.
Fitness boundaries put your fitness results on autopilot. If you know what constitutes an acceptable meal, then choosing what to eat just got a whole lot easier. If you're committed to exercising 3 times a week, soon it becomes second nature.
Need help setting up your fitness boundaries? I am here to help – call or email me now!
Instant Accountability
Do you have a weight loss goal that you're working toward? Post it on Facebook or Instagram and get instant accountability from friends and family. Be specific with your post. Include the exact amount that you aim to lose and the date that you'll lose it by. You may be surprised how encouraging and supportive your friends will be – it may be exactly the motivating boost that you need to achieve your goal.
Gourmet Open-Faced Salmon Sandwich
Open-faced sandwiches are great for cutting out extra calories while trying to lose weight. This recipe calls for sprouted grain bread, which is flourless bread that is densely packed with nutrients. Store your sprouted grain bread in the freezer, since it is made without preservatives or chemicals to promote shelf life. Servings: 2
Here's what you need…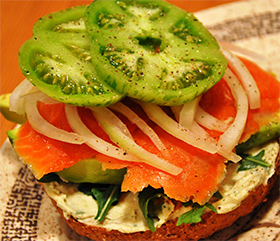 1 sprouted grain bun
2 Tablespoons hummus
½ cup arugula
Half of an avocado, peeled, pitted and sliced
6 oz smoked salmon
2 thin slices of onion
4 slices of heirloom tomato
Salt and pepper to taste
Spread each piece of the bun with 1 Tablespoon of hummus. Top each with half the arugula, avocado, salmon, onions, and tomato.
Season with freshly ground sea salt and pepper.
Nutritional Analysis: One serving equals: 267 calories, 9g fat, 25g carbohydrate, 6g fiber, and 22g protein.