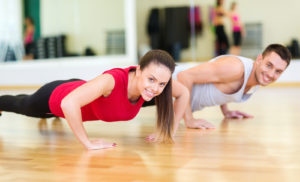 I've got to warn you. There are false rumors going around about strength training.
The truth is that strength training is one of the absolute best things you can do for your health and appearance.
If you've fallen for these 5 myths then you're missing out on tremendous potential results.
Myth #1 Muscle Turns Into Fat
Why would anyone want to build muscle if it could morph into fat after a span of disuse? Rest assured that this is a myth of the highest order.
Muscle tissue is muscle tissue. Fat tissue is fat tissue. One will never become the other.
Myth #2 Strength Training Doesn't Burn Fat
On the contrary, muscle mass is your number one ally against fat gains.
A pound of muscle burns 10-20 calories each day, while you're just living and breathing. Regular strength training helps you increase your muscle mass as well as preserve existing muscle mass, turning you into a fat burning machine.
Myth #3 Lifting Weights Makes Women Bulk Up
Yes, strength training increases the amount of muscle on your body; so many women take this to mean that their body will become body-builder-esque, which is quite the look you're going for.
The truth is that the female body simply doesn't contain high enough levels of testosterone to produce that level of results without a very focused and dedicated effort.
The tighter, toned figure of a recreational female weight lifter is every bit feminine.
Myth #4 Strength Training Is For Young People Only
Ha, that's a used-up excuse that senior citizens across the globe have shattered.
Assuming that your doctor has given you the OK, you have much to gain from a regular weight lifting routine.
Improved balance and coordination, better strength and flexibility, and a decreased risk of osteoporosis are just the beginning.
Myth #5 Use Light Weight and High Reps To Tone
This myth, popularized in the 90's, that very high repetitions of very light weights would result in a toned physique, has become outdated. These high repetitions will increase your muscular endurance but will not add strength or tone.
We now know that in order to truly challenge your muscles, heavier weights with lower repetitions are a must. Start with an 8-10 repetition range and push your muscles with each set.
Including strength training as a part of your fitness routine is essential for achieving a fit and toned body.
My custom-made fitness programs remove all of the guesswork for you. I know what works, and I make it my mission to see you reach your goals.
Call or email today and we'll get you started on the program that's best for you.
The Many Forms of Strength Training
Resistance training is no longer limited to dumbbells and barbells. Each of the following are ways to challenge your body with resistance:
Kettle bells
Medicine Balls
Exercise Bands
Weight Machines
Body Weight Training
Suspension Trainers
Maple Glazed Salmon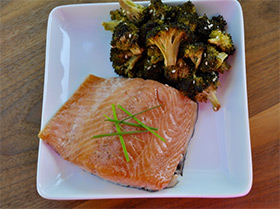 I'm often asked what makes a healthy dinner. Look no further than this tantalizing recipe for Maple Glazed Salmon. Salmon is a delicious protein that has the bonus of being filled with omega-3 fatty acids and vitamin B12. This recipe is simply baked in the oven, making it quick and convenient. Serve alongside roasted broccoli for a well-balanced meal.
Servings: 4
Here's what you need…
¼ Cup Maple Syrup
¼ Cup Coconut Aminos or Soy Sauce
1 Tablespoon Lemon Juice
Salt and Pepper
4 (6oz) Boneless Center Cut Salmon Fillets
1. In a large ziplock bag combine the maple syrup, coconut aminos and lemon juice. Generously season the salmon fillets with salt and pepper. Place the seasoned fillets in the marinade and seal the bag. Place in the fridge, skin side up, for an hour.
2. Preheat the oven to 400 degrees F. Lightly grease the bottom of a casserole pan with olive oil.
3. Place the fillets, skin side down, on the prepared pan and bake for 15 minutes, until flaky. Enjoy!
Nutritional Analysis: One serving equals: 286 calories, 10g fat, 14g carbohydrate, 0g fiber, and 34g protein.