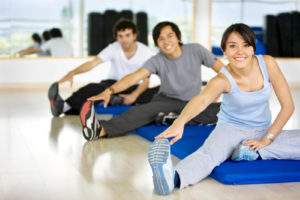 Feeling stressed? You're not alone.
Stress is an inevitable part of our modern existence. Whether you're the CEO of a large company, a Kindergarten teacher or a construction worker, you have stress to deal with. We all have bills to pay, relationships to maintain and challenges to get through.
But you don't have to let it get the best of you. How can you turn your stress-filled life on its head?
With one of the best weapons against stress: exercise.
When stress is getting you down, you need something to kick you out of your funk. You need something that makes you feel good.
Every time you exercise, you increase your body's production of endorphins.
In case you have forgotten, endorphins are responsible for those good moods you get in after a race or the euphoria you feel while chomping down on a piece of chocolate.
However, before you grab a piece of chocolate and skip the gym, remember the end result of each and choose which one will help you battle stress in the long run. (Hint: It's not the chocolate.)
Any and all exercise you perform helps you fend off the effects of stress. So whether you enjoy jogging, lifting weights, playing basketball, practicing ballet, swimming, yoga, rowing, or boxing, simply getting involved in your exercise of choice is sure to help reduce your stress.
Through the Brick Wall: If you are working out every day and not getting the stress relief you want then it's time to do things a little different. If all you do is lift weights five days a week, you should add in tennis or racquetball a couple days a week. And if you're all cardio all the time, it may be time to get off the treadmill and grab a dumbbell or two.
Still not working? Keep a diary of your progression. Write down how long and hard you exercise, the various weights you lift, and the steps you make toward whatever health goal you set for yourself. Take pictures along the way as well. Then look back over your journal on occasion. Seeing the progression when you feel you're not making progress may give you the confidence you need to put stress in its place and move on.
My mission is to get each and every one of my clients the body that they desire and along with that a low stress lifestyle.
Take the stress out of planning your own workouts by joining one of my high-energy, fat-blasting exercise programs.
Call or email today to get the body and stress level that you deserve.
Never Give Up
Don't allow past failures get you down. It can be frustrating waiting for results, but by a combination of cardio exercises, a healthy diet, and the right resistance workouts, you will reach your goal. Never. Give. Up.
Bacon & Mustard Spiked Green Beans
Here's a tasty way to serve up garden fresh green beans this summer. Smokey bacon and tangy mustard give these tender-crisp green beans memorable flavor. This side dish pairs perfectly with steak or chicken on the grill or alongside a lettuce wrapped burger. Enjoy!
Here's what you need…
2 lbs green beans, trimmed
6 slices bacon
½ cup yellow onion, sliced
2 Tablespoons apple cider vinegar
2 Tablespoons whole grain mustard
½ teaspoon sea salt
¼ teaspoon black pepper
1. Bring a large pot of water to boil. Add the green beans and cook for 5 minutes. Drain the beans into a colander and place under cold water for 20 seconds.
2. In a large skillet, cook the bacon until crispy over medium-high heat. Remove the bacon from the skillet, leaving the bacon drippings, and chop into 1-inch pieces.
3. Return the skillet to medium-high heat and cook the onions in the bacon drippings for 5 minutes, or until tender. 4. Reduce the heat to low and add the vinegar, mustard, salt and pepper, stirring until fully combined. Add the green beans and the bacon pieces and mix well. Serve and enjoy!
Nutritional Analysis: One serving equals: 158 calories, 8g fat, 12g carbohydrate, 6g fiber, and 10g protein.